[ad_1]

State of Organic Seed: A Conversation with Organic Seed Alliance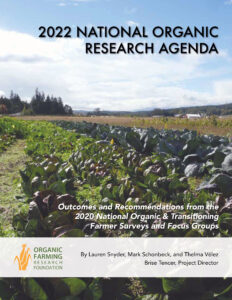 The Organic Farming Research Foundation 2022 National Organic Research Agenda (NORA) is a report informed by surveys and focus groups conducted in 2020 with over 1,100 certified organic farmers and ranchers across North America.
What Farmers Said
In the NORA report, ~70% of organic crops are planted with certified organic seeds.
On-farm production of organic seed declined from 63% in 2015 to 46% in 2020, indicating a need for farmer training and technical support in organic seed production.
A Conversation with Organic Seed Alliance (OSA)
OFRF recently chatted with Kiki Hubbard, Organic Seed Alliance Directory of Advocacy & Communications, about the OSA's State of Organic Seed 2022 report. This report was released concurrently with OFRF's 2022 National Organic Research Agenda.
Key Findings in the State of Organic Seed 2022 Report
Producers report variety unavailability as their top reason for not sourcing organic seed.
Furthermore, certifiers have a hard time identifying what might be substituted as an equivalent variety per the organic seed regulation.
Download the OSA's Data Brief for Organic Producers
Cited Resources in the Video
Share This Story, Choose Your Platform!
[ad_2]

Source link