[ad_1]

Check out our guide to Retail & Consumer Goods at Data + AI Summit to help plan your Summit experience.
Every year, data leaders, practitioners and visionaries from across the globe and industries join Data + AI Summit to discuss the latest trends in big data. For data teams in the Retail & Consumer Goods industry, we're excited to announce a full agenda of Retail & Consumer Goods sessions. Leaders from Anheuser-Busch, IKEA, Wehkamp, 84.51 and other industry organizations will share how they are using data to impact real-life use cases like sales forecasting, on-shelf availability, recommendations, churn analysis and more.
Retail and Consumer Goods Industry Forum
Join us on Tuesday, June 28 at 3:30 pm PT for our Retail & Consumer Goods Forum. During our capstone event, you'll have the opportunity to hear keynotes and panel discussions with data analytics and AI leaders on the most pressing topics in the industry. Here's a rundown of what attendees will get to explore:
Keynote
In this keynote, Vik Gupta, Vice President of Ads Engineering at Instacart, will cover the rise of retail media networks and the importance of performance measurement. Vik will share how ad platforms, like Instacart Ads, benefit retail and consumer goods brands by unlocking new digital monetization capabilities, data, and insights on shopping behavior.
Panel Discussion
Join our esteemed panel of data and AI leaders from some of the biggest names in retail and consumer goods as they discuss how data is being used to improve customer experience through personalization, optimize supply chains and build a robust partner ecosystem.
84.51°: Nick Hamilton, VP of Engineering
PetSmart: Elpida Ormanidou, VP of Analytics and Insights
Gap: Vimal Kohli, VP & Head of Data Science & Analytics
Walgreens: Mike Maresca, Global Chief Technology Officer
Shipt: Barry Ralston, Director of Engineering, Analytics Data Platform
Retail & Consumer Goods Breakout Sessions
Here's an overview of some of our most highly-anticipated Retail & Consumer Goods sessions at this year's summit:
Building a Data Lakehouse for Data Science at DoorDash
Hien Luu, Sr. Engineering Manager, DoorDash
Brian Dirking, Partner Marketing, Databricks
Learn about how DoorDash moved from a data warehouse to a lakehouse architecture to increase data transparency, lower costs, and handle both streaming and batch data. Luu will share how DoorDash's new efficiencies are enabling them to tackle more advanced use cases such as NLP and image classification.
---
Powering Up the Business With the Lakehouse
Ricardo Simon Moreira Wagenmaker, Data Engineer, Wehkamp
Discover how Wehkamp has built a lakehouse to provide reliable and on-time data to the business, while making this access compliant with GDPR. Unlocking data sources that were previously scattered across the company and democratizing the data access has enabled Wehkamp to empower the business with more, better and faster data.
---
Quick to Production with the Best of Both Apache Spark and Tensorflow on Databricks
Ronny Mathew, Data Science Manager, Rue Gilt Groupe
Check out how Rue Guilt Group is leveraging the best features of both Apace Spark and TensorFlow, how to go from single node training to distributed training with very few extra lines of code, how to leverage MLflow as a central model store, and finally, using these models for batch and real-time inference.
---
Setting Up On-Shelf Availability Alerts at Scale With Databricks and Azure
Kashyap Kasinarasimhan, Senior Director, Tredence
Learn about Tredence's On-Shelf Availability Accelerator – a robust quick-start guide that is the foundation for a full Out Of Stock of Supply Chain Solution. Hear how the OSA solution has helped Datarbicks customers focus on driving sales through improved stock availability on the shelves.
---
Building and Scaling Machine Learning-Based Products in the World's Largest Brewery
Dr. Renata Castanha, Technical Product Manager, AI/ML, Anheuser-Busch InBev
Hear how Anheuser-Busch InBev (Brazil) has been developing and growing an ML platform product to democratize and evolve AI usage within the full company.
---
This is just a glimpse of what's in store. Check out the full list of Retail & Consumer Goods talks at Data + AI Summit.
Demos on Popular Data + AI Use Case in Retail & Consumer Goods
Attendees will also have the opportunity to deep dive into key use cases with these live demos:
Drive faster, more accurate decisions with real-time retail

Learn how to build highly scalable streaming data pipelines leveraging Delta Live Tables to obtain a real-time view of your operations.

Personalize interactions with propensity scoring

See how to develop propensity scores for your customers — using Databricks Feature Store and MLflow — to determine how to best personalize interactions and increase revenue.
Sign-up for the Retail & Consumer Goods Experience at Summit!
Register for the Data + AI Summit to take advantage of all the amazing Retail & Consumer Goods sessions, demos and talks scheduled to take place. Registration is free! In the meantime, download our Guide to Retail & Consumer Goods Sessions at Data + AI Summit 2022.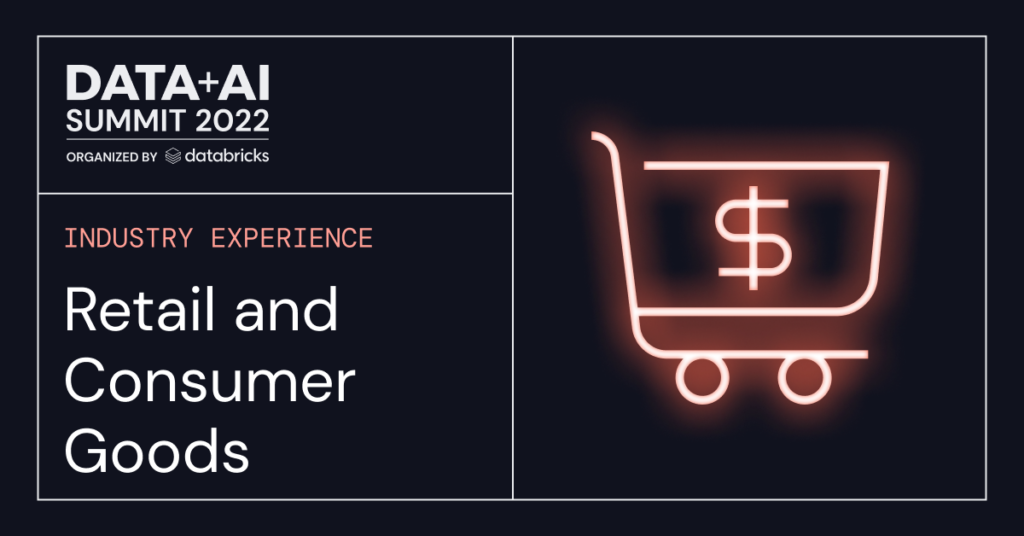 [ad_2]

Source link